Whether you're replacing a rusty man hole cover or providing safe maintenance access to a machine or storage silo, it's worth considering the Step on Safety range of GRP products before automatically choosing a metal, concrete or even wooden solution.
Fibreglass fabrications are proven to outlast alternatives by decades with very little maintenance, providing non-slip access whatever the conditions. We can build one for you or you can construct one yourself; we're happy to offer advice on the best way to approach a project. GRP materials are a fraction of the weight of steel equivalents making them much easier to handle. They are also much easier to cut. They don't spark (so don't require a Hot Works Permit) and can be cut and drilled with the same equipment you'd use for stone - with diamond-tipped or tungsten carbide blades.
GRP PPE
So, what protective equipment do you need to start working with our GRP Products? The slip-resistant properties of Open Mesh Grating, Solid Top Grating and the Anti-Slip Range are created by embedding quartz crystals in the surface coating; a really tough pair of gloves is needed to stop your hands from being shredded. Wear tough work trousers too - the surface will snag on clothing.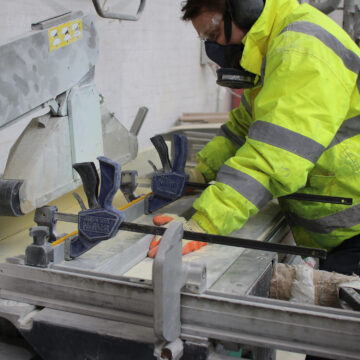 Unsurprisingly, the dust generated when cutting or drilling glass reinforced plastic has glass in it, so goggles and a dust mask are essential. Ideally the dust should be extracted from the environment as quickly as possible. When we're onsite we have a vacuum cleaner on hand to clean up the dust at intervals throughout the day to prevent it from building up. GRP dust can actually be recycled if you generate enough of it.
GRP Products from Stock
We usually have stock of all the GRP materials listed on our website; we use them to create the fabrications we supply. The vast majority of what we produce uses 38mm Standard Mesh Grating which is available in a range of panel sizes and colours. The structures are built using Universal GRP Profiles - Angles, I-Beams, Channel and Box. We also carry the tubes needed for our two GRP Handrail systems - SafeRail and SafeClamp. We also have all the specialist fixings you need to build anything from a flight of steps to a raised walkway.
External Staircase Solutions
It's important to ensure that the tread of a stair - especially one outside - is as non-slip as possible. We'd be happy to build you some stairs from scratch using our GRP products but, if the structure of your existing staircase is sound you may simply need to improve them with an anti-slip treatment. External stair treads can be replaced completely with GRP mesh treads, covered with a non-slip stairtread cover or improved by adding stair nosing strips.
Slippery Walkways?
If you have an outdoor path that can become slippery then it could be worth investing in GRP anti slipflooring sheets to resolve the issue. Our walkway mesh allows water to drain through while the gritted surface prevents slips, trips and falls - even in icy or oily conditions. Walkway grating is stocked in a range of colours and sizes and can to cover or replace existing floors. Alternatively our Flat Plate floor sheets provide heavy duty non slip flooring solution ideal for public footpaths.
Our GRP materials can be shipped anywhere in the world. Delivery charges for UK mainland addresses are calculated automatically at checkout; for overseas deliveries please contact abuckingham@steponsafety.co.uk.