Step on Safety's GRP RiserDeck® System
Our biggest selling solution, RiserDeck is a complete GRP Service Riser Flooring system designed to be easy to install, long-lasting and maintenance-free. We offer two versions; Post-fix for refurbishment projects or new builds where the floors are in place and Cast-In, a modular systems installed BEFORE the floors are poured. Both are supplied as bespoke safety solutions tailored to your specifications.
What is a Service Riser?
A Service Riser is a vertical shaft running through a building for the pipes and cables that provide electricity, gas, water, air-conditioning, phone, internet etc. They are walled in to create a protected shaft and to comply with Approved Document B. The walls are designed to stop a fire from spreading outwards onto the floors and to stop fire from spreading from one floor to another.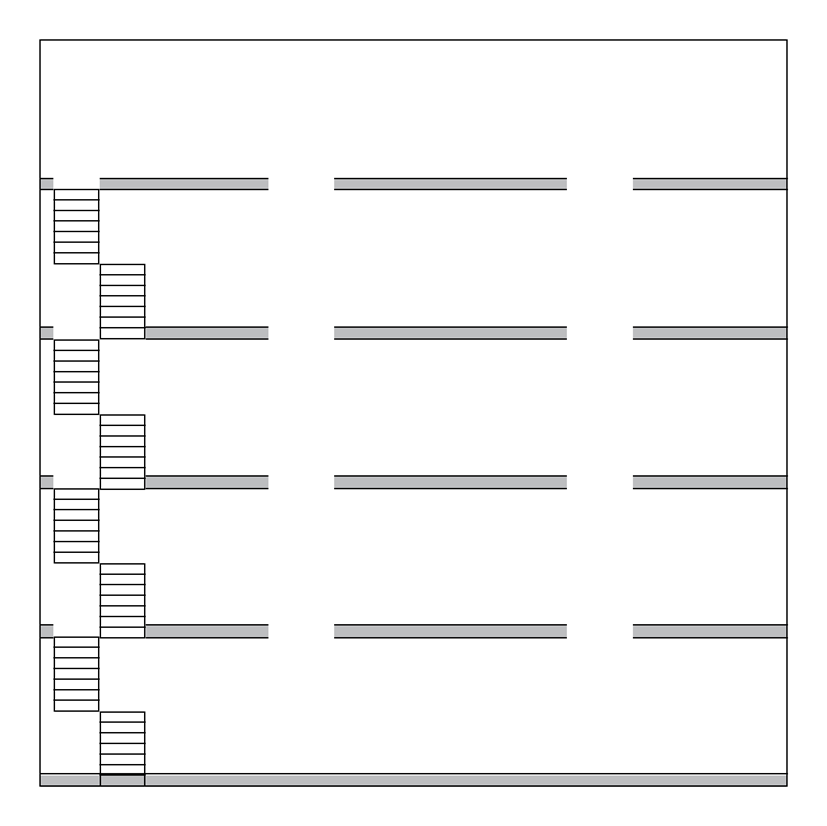 Why do Service Risers need floors?
Not only does the void created present a significant hazard to construction teams on site during construction, maintenance engineers need safe access when the building is complete to make their checks & repairs. Tools or equipment dropped into the riser shaft can cause damage; people would be injured or killed. Installing floors prevents injury and damage and removes the need for safety harnesses, ladders, towers or scaffold during construction. RiserDeck is a GRP Floor Riser System design to prevent these kinds of accidents.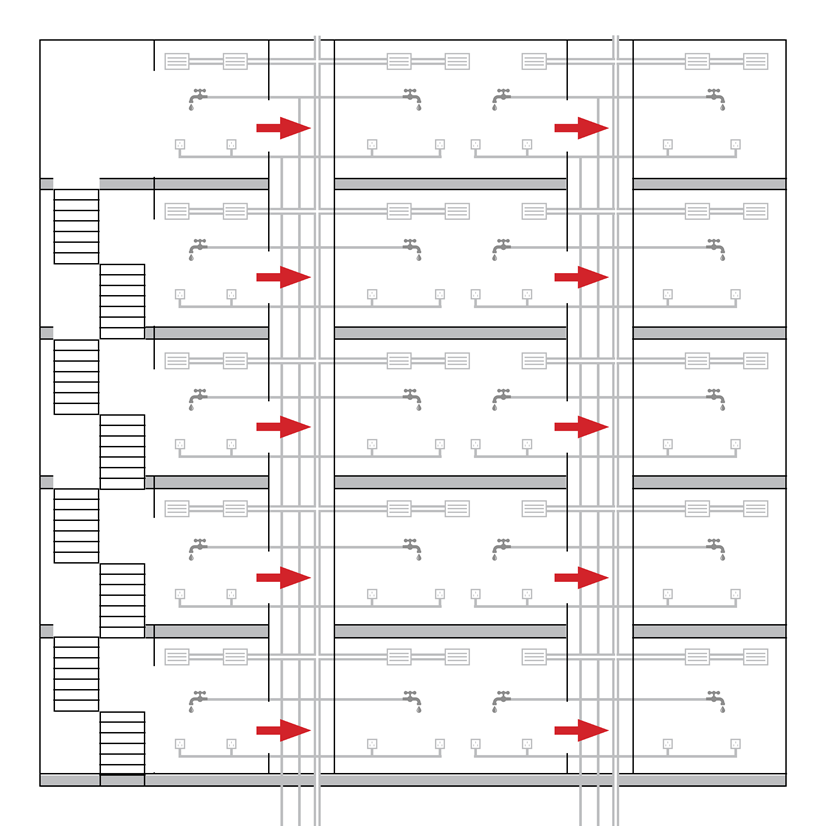 When is a Riser Floor installed?
The sooner riser floors are installed, the sooner the fall hazard is eliminated. However, older buildings don't have them – it hasn't always been a requirement – and they are still (unfortunately) considered as an after thought by many contractors, so installed in new builds quite late in the project.
Retro-Fit
Risers are often installed in older buildings as part of refurbishments – they are needed to attain Health and Safety sign-off. By 'older building' we mean anything built before the regulations came in the 1980s. While there is no current requirement to install riser floors in older buildings, when upgrades and refurbishments are undertaken, floors are often installed at that point. Retro-Fit riser floors can be challenging. For a start the services are in place so the floor must be fitted around them; access can also be difficult – the spaces weren't designed with maintenance in mind and services have been added wherever they could fit. The older the building, the harder it is – historic buildings simply weren't designed with indoor plumbing, gas or electricity in mind – let alone wi-fi and air-con. The RiserDeck system is flexible enough to install in any space and, because GRP is lightweight, we can manoeuvre the components into position manually.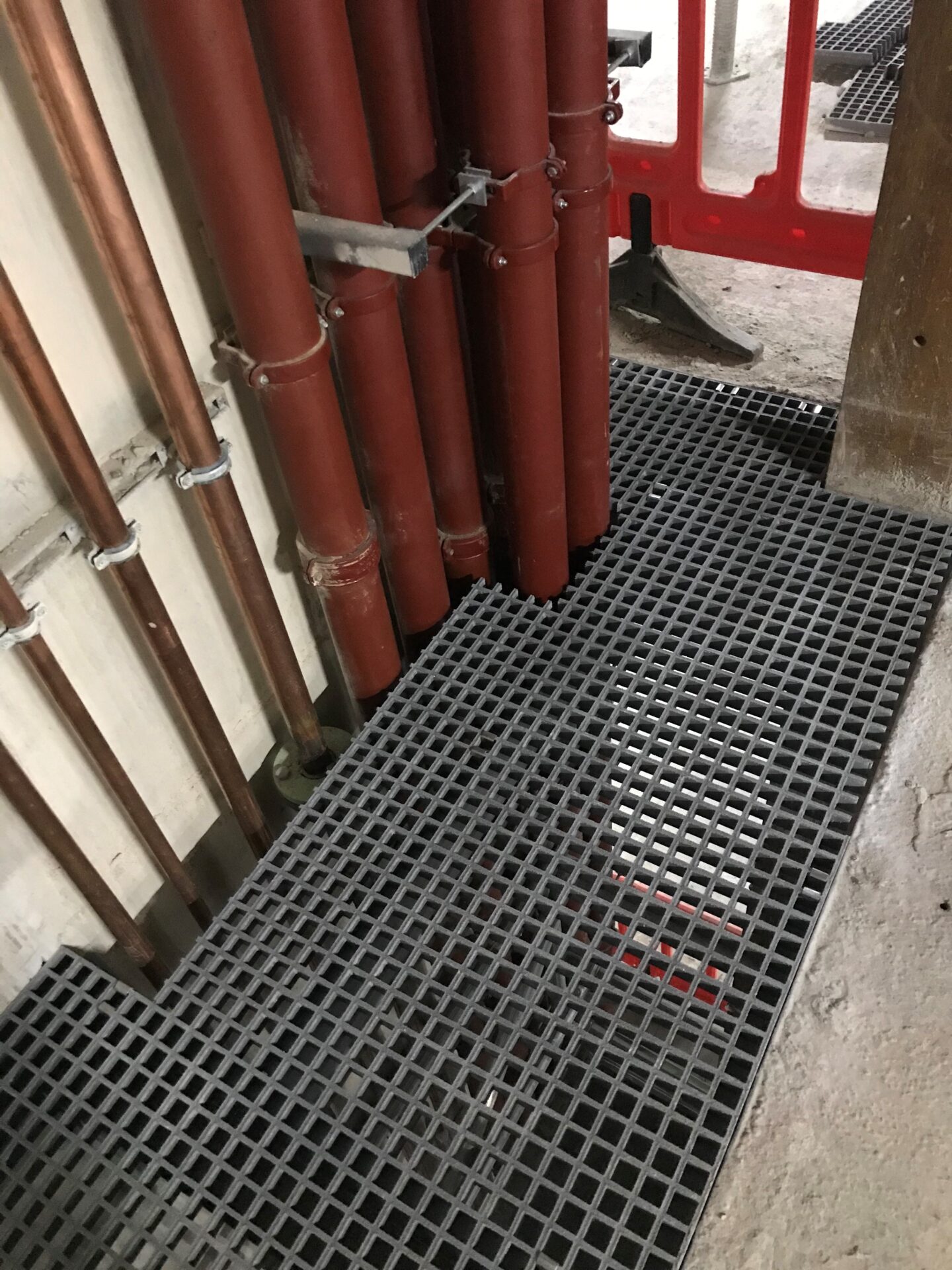 Post-Fix
Most of the riser floors we install are Post-Fix; that is after the floors are poured but before the riser is boxed in and before the services are installed. A framework of GRP profiles is designed to be bolted into the sides of the void and grating is cut to fit and dropped in. It's a straightforward process – much of which can be done off site – with adjustments made as required during installation. All RiserDeck Service Riser Floors are constructed to a minimum Safe Working Load of 5 kN/m2. In order to maintain this rating after holes are cut for the services, we add extra bracing. In order to do that we need to know exactly where and what services will be going in so we can ensure the extra supports aren't in the way.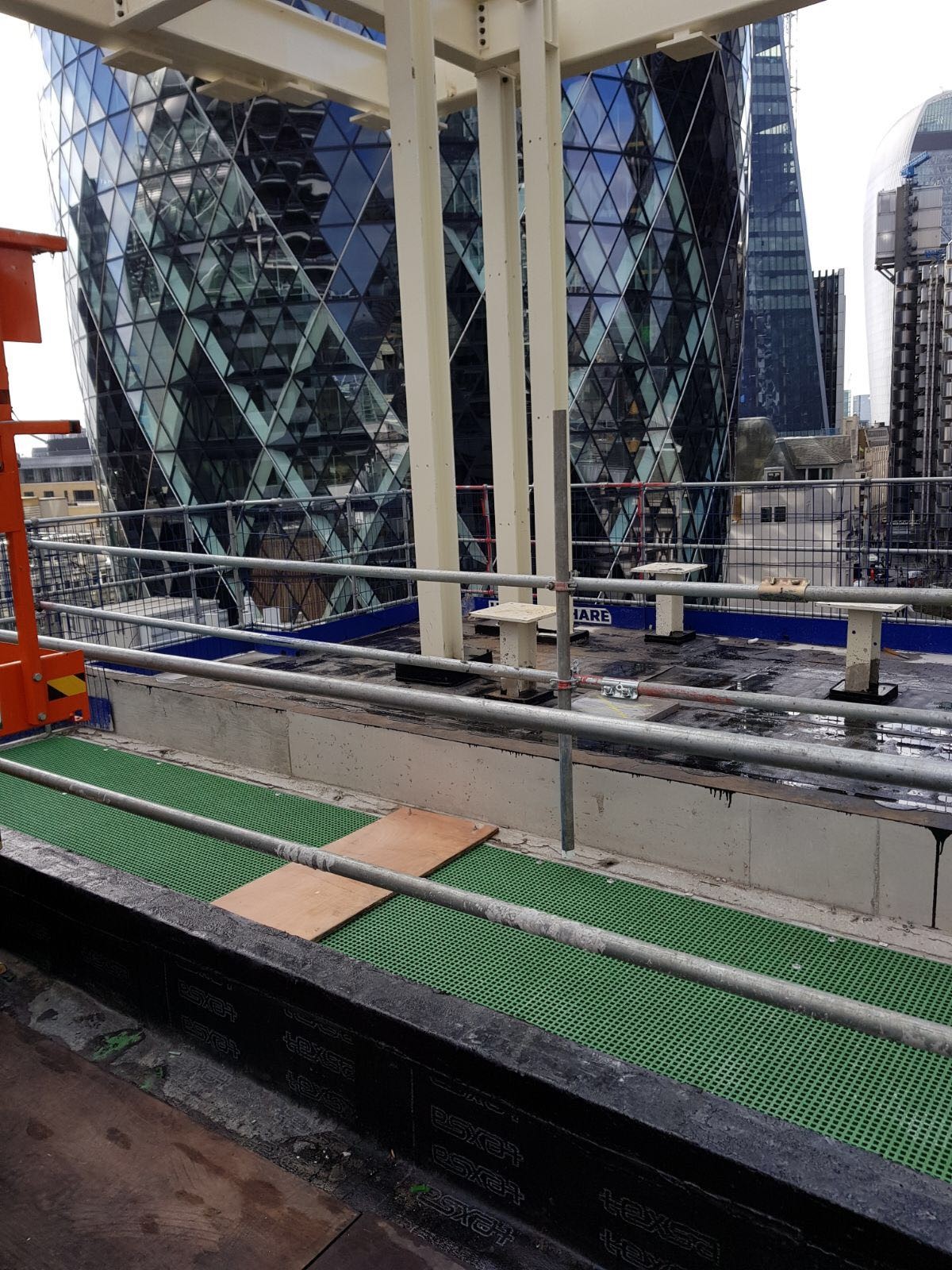 The main downside to Post-Fix floors is that there is a hazardous void for the time between the concrete pour and the riser floor being fitted. Fall protection barriers need to be installed around each void, areas need to be sectioned off and a scaffolding tower is needed for the installation – all of which costs time and money.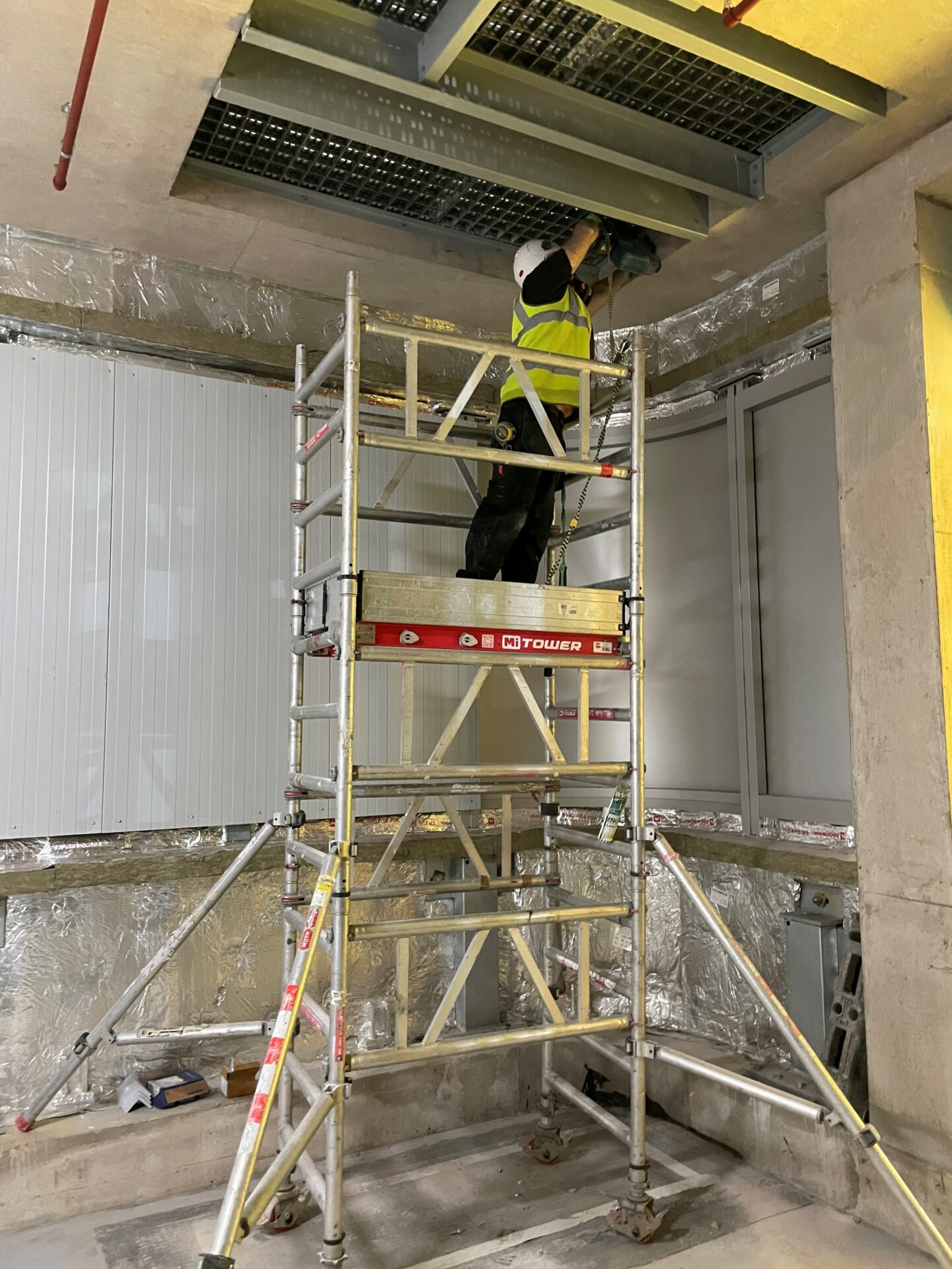 Cast-In
Using a cast-in system eliminates the existence of a dangerous void. The riser module is positioned directly on the steel deck and the concrete is poured around it. RiserDeck's cast-in system is the only entirely GRP solution on the market; until recently, cast-in riser floors could only be achieved using a steel framework with either a steel or GRP floor. The new system allows the riser floor to be constructed off site and then supplied in easy-to-handle modules for the concrete contractors to position. That also means one less team on site, no scaffolding, no shuttering and strike-out and no lifting equipment – reducing costs significantly.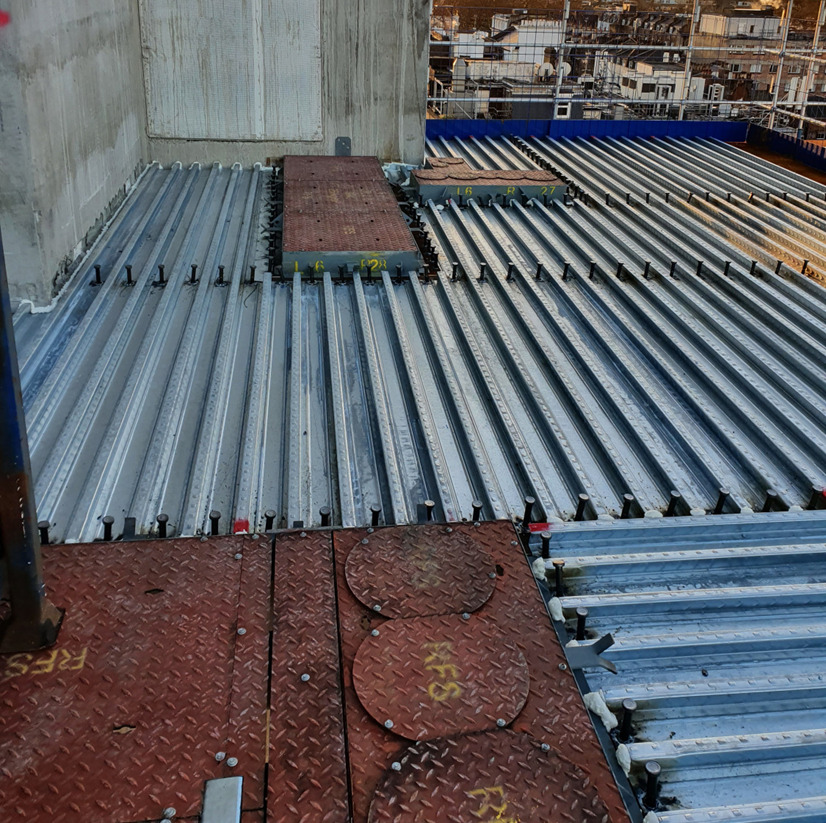 Why Choose RiserDeck?
Whichever of RiserDeck's systems you choose, you can be sure that you'll be getting the very best quality available. In addition:
GRP Riser Floors are easy to adjust in situ – non sparking, no Hot Works and no specialist equipment required
GRP is long-lasting with zero maintenance – it won't rust, rot, warp or fade
GRP grating is non-slip, even when wet or oily
GRP is a fraction of the weight of steel equivalents so doesn't need lifting equipment to manoeuvre
We can provide an accredited CPD Seminar: Service Risers – Everything You Need to Know that explains the Service Riser Floor options available; comparing the pros; cons and costs of the methods and materials on the market. Aimed at architects and contractors, the seminar is given in person at a location of your choice. For more details, please contact Tony Lamotte.
If you'd like to discuss how using RiserDeck can improve your site safety please get in touch.