What is Glass Reinforced Plastic?
GRP stands for Glass Reinforced Plastic (or Polymer). You may also know it as FRP (Fibre Reinforced Plastic) or even as Fiberglass. They are all a blend of recycled plastic, recycled glass and a tough waterproof resin to bond it all together. This mixture is then moulded into the required shape – whether that's a panel of open mesh or grating to use as flooring or fencing, or long, smooth profiles used to build the framework of a structure. An extra layer, embedded with sharp quartz grit, is often added to the top to create a slip-resistant surface that remains effective in wet, icy or even oily conditions.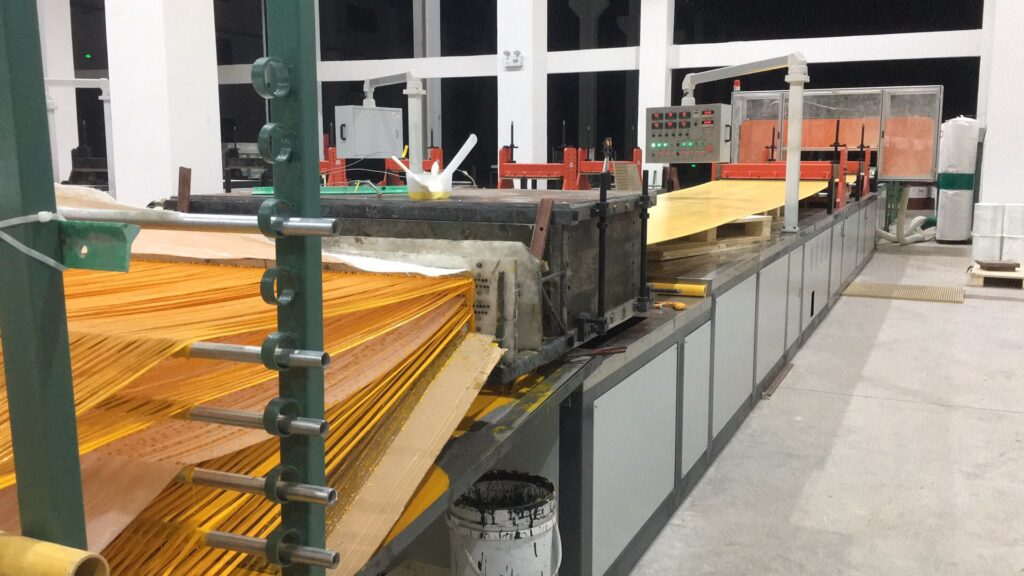 The composite material was originally developed for the boating industry as a lightweight, tough, waterproof alternative to wooden hulls, it is now well-established within the construction industry and can be found in buildings, factories, utility plants, power stations, railway stations, marinas and docks across the globe.
As more and more industries explore the benefits of using GRP instead of steel, different types have been developed to cope with some of the world's most inhospitable environments. They are made by using different qualities of resin to bond with the glass and plastic.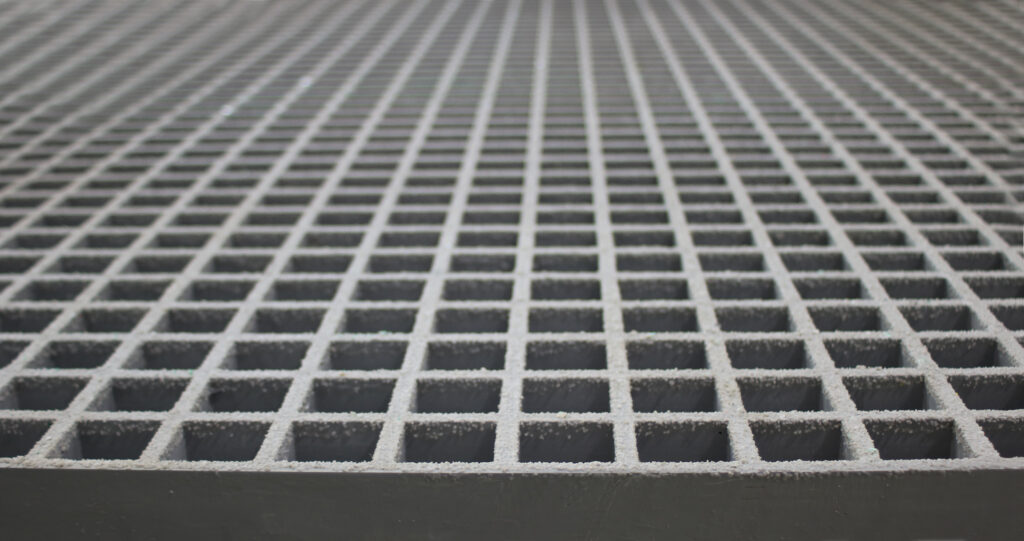 Orthophthalic Resin (Ortho)
Ortho resins are based on orthophthalic acids and are a good, general purpose and inexpensive choice. They are most commonly used for applications that aren't subject to high temperatures or highly corrosive environments
Isophthalic Resin (Iso)
GRP made with Iso resins are better suited to corrosive environments and can cope with higher temperatures. They have greater mechanical properties too which means they are the ones most commonly used when building structures. For this reason, they generally cost more to produce than the Ortho versions.
Vinyl Ester Resin
Much denser than Ortho or Iso resins, Vinyl Ester GRP products are more able to absorb impact without damage and are often used to reinforce structures made from Iso or Ortho resin.
Phenolic Resin
Grating made from Phenolic GRP is the latest and strongest version to date and can be found in the most hostile of environments including oil refineries, oil platforms, underground mining, railways and in shipping. It has the maximum fire resistance and emits little smoke or toxic fumes when burning – critical in enclosed spaces. Its reinforced structure can take exceptional loads – useful where large, uninterrupted spans need to be bridged.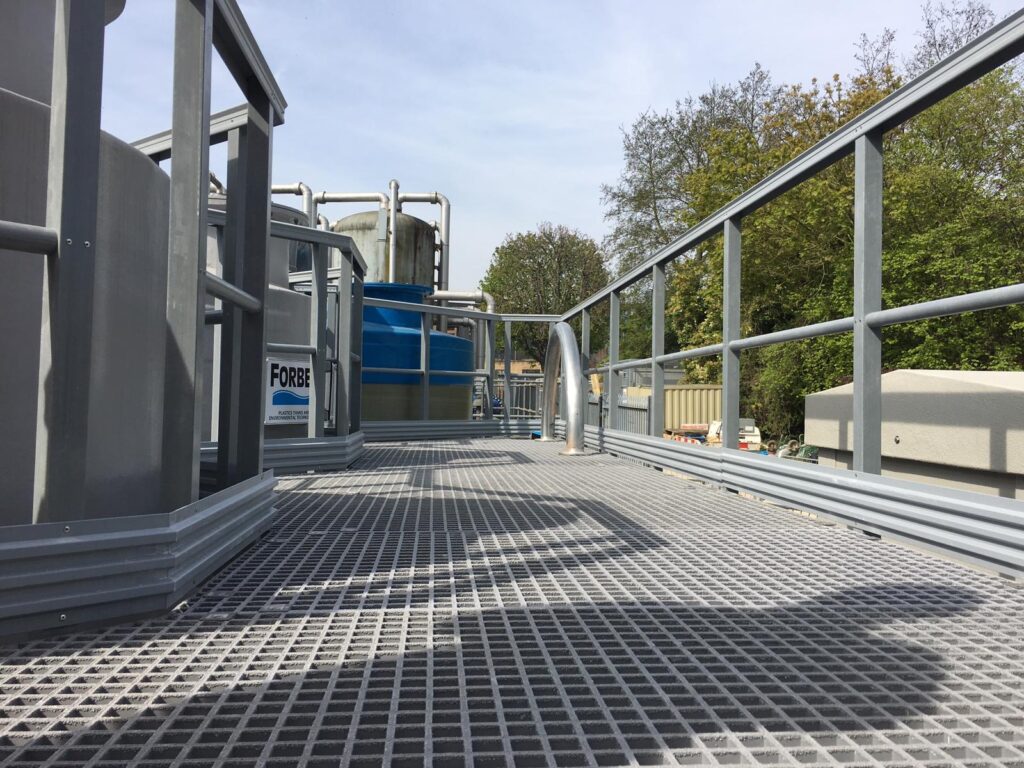 Why Should You Choose GRP?
More and more architects and developers are switching from steel to GRP alternatives; we took a look at the reasons why:
It lasts longer
Like all plastic-based products, the GRP lifetime is measured in terms of decades – up to 50 years in some applications – so, once it's installed, it won't need replacing anytime soon. In fact, we're so confident in its longevity that we offer a 15-year warranty on all our GRP products
It won't go rusty
Steel is at risk from any moisture – whether that's water vapour, rainwater, river water, sea water or water from drainage, sewage or sluicing. Which means that, even on indoor applications, if you want to clean it you run the risk of starting corrosion. GRP does not rust
It's chemical-resistant
GRP grate flooring is not only impervious to water, it's resistant to hundreds of other chemicals that will damage metal over time
It comes in a range of colours
Standard colours are green, grey, beige and yellow but it can actually be produced in any RAL colour
It's low maintenance
It never needs painting or coating. The colour is part of the material it's made from, so it won't wear off or chip
It's UV-stable
Not only is it that, but the colour won't fade in sunlight (or any other light); if you're using a bright colour to warn people of a hazard, it will be just as noticeable ten years after installation as the day it was new
It's lightweight
A four metre panel is still a two-man lift but it's up to half the weight of the steel equivalents, which makes GRP much easier to move. Travelling from site to site, vehicles will use less fuel – within a site it can be moved manually or by forklift – no cranes required. That represents a huge cost saving in installation alone
It's fire resistant
All our GRP grate flooring contains a fire-resistant additive which complies with Euro Class 1 and ISO11952-2. Performance in tests matched ASTM E84 class 1 and BS476 part7 class 2 flame spread to give a 30-minute burn time
It's slip-resistant
Our fibreglass grating has an integral layer of quartz grit embedded in the top, offering a superb, non-slip finish effective in wet, icy and even oily conditions. You can read more on slip resistance here.
It's non-conductive
You won't get an electric shock from standing on a GRP floor. However, if a static spark could pose a threat (because of flammable gas or fumes) there is a conductive alternative that can be earthed
It's easy to cut
All that's needed is a heavy duty saw. There are no sparks created when cutting GRP gratings, so there is no fire risk and no Hot Works permits are required
It doesn't conduct heat
GRP feels warmer than steel as it doesn't absorb body heat, so it's more comfortable to work around
It's quieter
Running up or down a steel staircase is a noisy, clanging business; GRP Walkways and Staircases don't resonate in the same way making for a less disruptive working environment
Is GRP a Sustainable Choice?
GRP is far more environmentally friendly than most people realise.
A material's environmental impact relates to the entire value chain, from extracting the raw materials and the strain these activities put on the environment, to the transportation, production, further transport, assembly and erection of the final product.
Glass fibre production requires 75% less energy than steel production. The curing process is exothermic (gives off heat), which means the energy consumption per unit produced is extremely low
Glass fibre structures are 75% lighter than steel which means 50% less energy is required for transport and assembly
GRP's CO2 equivalent is less than half that of concrete equivalents and approximately a third of the equivalent for steel which means its carbon footprint is favourable
Very few harmful by-products are created during production – pultrusion takes place in a fully closed process that minimises the evaporation of volatile compounds
The production of basic resins and fibre rovings does not have the same negative environmental impact as that of metals such as steel or aluminium
The resin used to make GRP is derived from a by-product of refined crude oil
Due in part to the high quality resins that are used, many GRP products have a service life of more than 50 years and even more than 100 years in some cases
GRP doesn't require environmentally harmful finishing operations, such as hot-dip galvanising or painting (steel) or other preservation methods (such as those used for wood), in order to guarantee its service life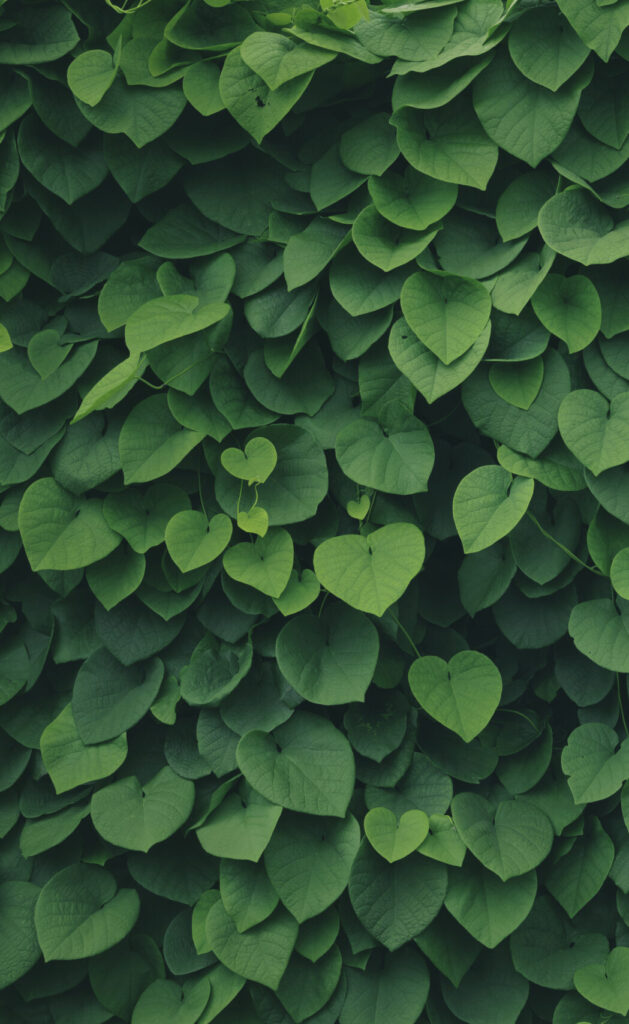 100% Recyclable
According to the European Composites Industry Association (EuCIA), GRP is 100% recyclable and can be reused in many different applications. GRP products can be professionally recycled to produce high-quality substitute fuels and reclaimed fibres. Furthermore, processed GRP waste is a high-grade alternative for the cement industry where it is used both as a fuel and as a mineral raw material (SiO2).
Sustainability & Environmental Policy
At Step on Safety Ltd we recognise that our operations can have significant economic, environmental and social impacts. We are committed to assessing sustainability risks and opportunities, and taking appropriate steps to mitigate negative impacts and enhance positive impacts for the benefit of our business, our stakeholders and the wider environment.
Step on Safety Ltd implements practices that promote environmental accountability and social responsibility and strives for continuous improvements in these areas. See our full Environmental Policy here.
So, if that lot doesn't convince you that GRP is the smart way to go, nothing will! If it has, then take a look at our range here. All our Isophthalic GRP products are stocked in the UK for immediate despatch. If you are looking for one of the more specialist varieties, please get in touch with us. For further information or advice call 01206 396 446 or send an email to sales@steponsafety.co.uk
Still want to know more? Check out our FAQs page.