Tracmat UK 4×4 Bridging Ladders
Whether you drive off road for work or for fun, a pair of Tracmat Sand Ladders in your boot should ensure you never get stuck. Genuine Tracmat™ 4×4 recovery ladders are now exclusively available through Step on Safety. Same great quality – now direct from source.
A modern, ultra strong, lighter weight alternative to heavy, corrosion-prone metal sand ladders, these glass-reinforced polyester (GRP) Tracmats are a must for any serious off-roader. Excellent for recovery when stuck in thick mud, soft sand or snow, or as a bridging ladder over narrow gaps which the vehicle wheel might not otherwise cross unaided.
The Tracmat™ Bridging Ladders can be placed just under the front of the stationary tyre to provide a non-slip surface for the vehicle to self-recover under its own power, or in conjunction with another vehicle for assisted recovery.
The vehicle weight on the tyre is distributed throughout the area of the Tracmat, meaning the tyre will not sink or dig in. The Tracmat has been designed to deflect under the vehicle load, however, because they are made of a glass reinforced plastic rather than metal, the inherent elasticity allows them to spring back to their original shape when un-laden.
The excellent grip is achieved through the bi-directional mesh construction. This allows aggressive mud-tyre treads to easily grip and hold onto the surface. A quartz grit surface provides additional adhesion.
This combination creates unrivalled tyre to surface adhesion and grip greatly superior to any traditional metal sand ladder. The inherent strength, durability, reduced weight, and corrosion resistance makes Tracmats the only modern choice for the off-road adventurer.
Tracmat™ Fibreglass (GRP) Ladders are available in an assortment of panel sizes and thickness to suit a variety of applications;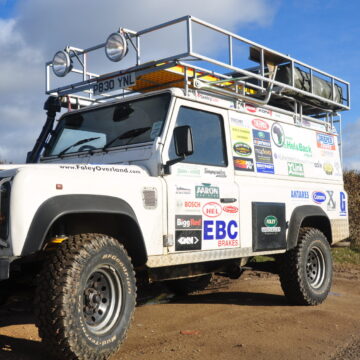 Sand Ladders
25mm thick, with a 38 x 38mm square mesh pattern. These are designed for surface traction in muddy, icy or sandy conditions. Also ideal for caravan and motorhome use to aid recovery from slippery situations.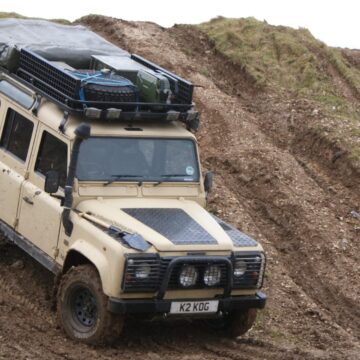 Standard Duty Tracmats
38mm thick with a 38 x 38mm square mesh pattern. These are our most popular selling item and will comfortably withstand the weight of your vehicle across moderate ditches and gullies.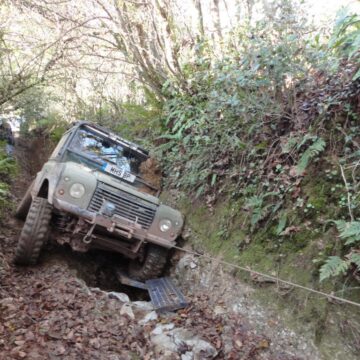 Heavy Duty Tracmats
50mm thick with a 50 x 50mm square mesh pattern. These are the real heavy weight champions. These big boys are ideal for the roughest terrain, with increased spanning and loading capabilities.
Will they take the weight?
A question that is always on our mind here at Tracmat UK, so in answer to this question we commissioned, MILLBROOK PROVING GROUND, to laboratory test our 50mm thick bridging ladders to measure deflection under-load, and ultimately destruction. Millbrook provides the global automotive industry with virtually every test and validation service necessary for the development of cars, components, commercial and military vehicles. Operating independently, it has established a world-wide reputation for confidentiality, service and competitiveness.
A point load of 100mm x 30mm was applied to a section of the Tracmat, with spans including 250mm, 500mm, 1000mm and 1500mm. The load was increased and the load and deflection of the material was recorded. PLEASE NOTE: Our 38mm & 50mm boards will comfortably with-stand the weight of your Off Road Vehicle. The 38mm boards can withstand up-to 2500 Kg, and the 50mm boards in excess of 3000 Kg.
Go exploring
Whatever your next adventure holds, make sure you are ready for anything with Tracmat UK.