GRP Permanent Working Platforms for Utility Applications
For control panels and maintenance hatches installed in hard-to-reach places, gaining access safely can be a challenge. We can design, supply and install a bespoke GRP working platform to suit your environment. They range from simple threshold steps to high-level platforms that ensure operational and maintenance crews remain safe.
Bespoke Access Platforms
Our designers work with your basic site dimensions using AutoCAD® technology to create a design that meets your exact requirements. All our fibreglass Working Platforms are manufactured from heavy duty structural fibreglass pultruded profiles. On a weight-for-weight basis they are around 80% lighter than conventional steel profiles and around 30% lighter than aluminium profiles. This exceptional weight saving provides positive cost-saving benefits with thanks to easy installation. It also reduces the imposed loading on existing substrates, such as rooftops and mezzanines.
Anti Slip Flooring
We incorporate QuartzGrip anti-slip Grating in the design of all our fibreglass Stairs and Access platforms. This stair tread is manufactured from 38mm thick grating with an integral solid reinforced nosing for optimal slip resistance. Continuous handrail provides fall protection at every point. Every platform we manufacture is corrosion and weather-resistant, which means it requires minimal maintenance, even if it's located outside.
Easy Access
We can include hooped ladders, ships' ladders, standard steps or even a ramp to provide access to our GRP platforms.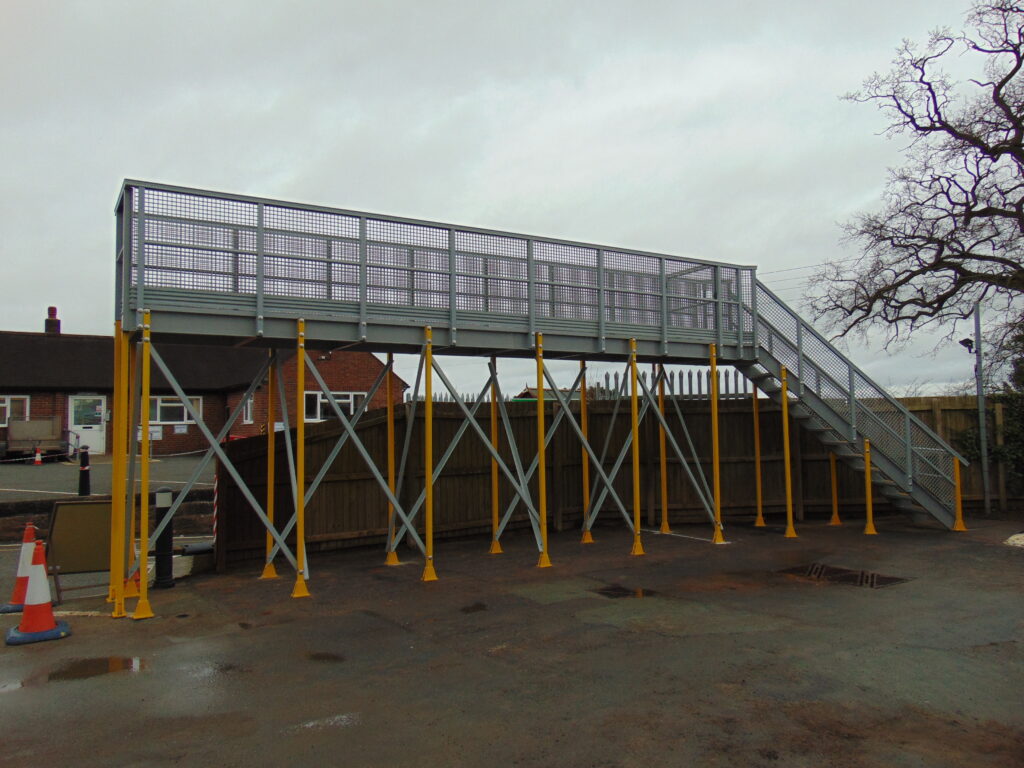 Choosing GRP to build a permanent Working Platform is a smart choice all round;
GRP is low-maintenance and long-lasting
GRP mesh remains anti-slip even in wet or oily conditions
Using Mini or Micro Mesh GRP Grating ensure tools and fixings don't fall through to lower levels if dropped
Hi-Vis Handrailing clearly identifies potential hazards, gates and stairs
Optional SafeScreen Machine Guard mesh to protect against moving parts
Step on Safety is keen to work with system suppliers to develop access solutions tailored to specific equipment. Working with Anglian Water and Eliquo Hydrok, we have recently created a platform design for Mecana Waste Water Filtration Systems. The design features a caged Cat Ladder that allows maintenance engineers to climb into the units safely. Read more on Mecana Safety Platforms.
Working Platforms case studies

Utility Case Studies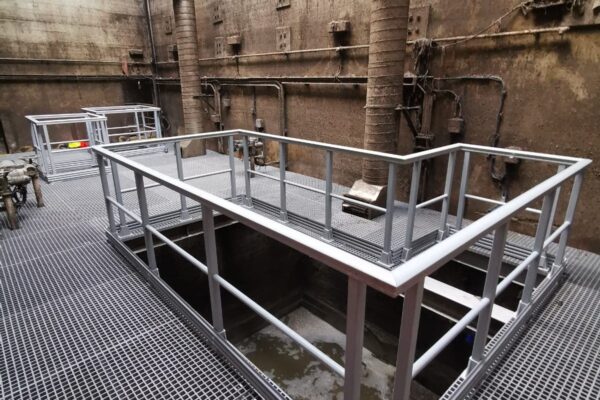 Pumping Station Chamber Renovation
Pumping Station Chamber Renovation
A challenging install in a challenging environment; replacing the steel platforms inside four foul chambers.
Pumping Station Chamber Renovation

Utility Case Studies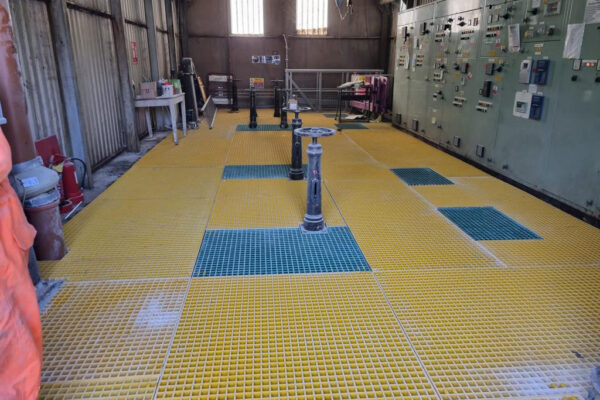 Belton Gardens Pumping Station
Belton Gardens Pumping Station
We've just completed a much needed refurbishment at Anglian Water's pumping station in Belton Gardens, Southend, replacing badly corroded steel floors, walkways and handrails...
Belton Gardens Pumping Station
Call today
Find out more about Access Platforms
Mon-Fri 8:30am to 4:30pm