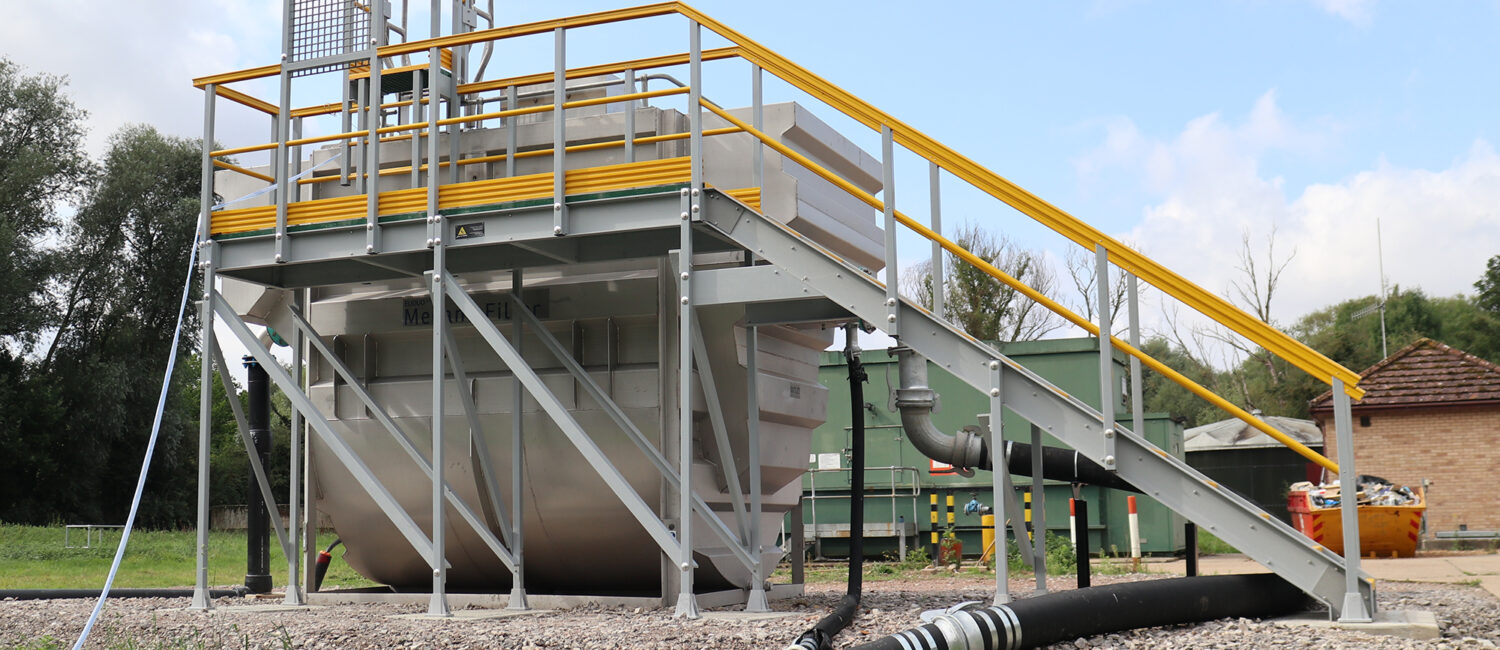 Utility Case Studies
GRP Access Platforms for Mecana Units
Working with Anglian Water and Eliquo Hydrok, Step on Safety has developed a GRP Maintenance Platform design to give engineers safe access to Mecana Waste Water Filtration System units.
Previously only available in steel – which doesn't cope well with any wet environment – the new platforms are built entirely using glass reinforced plastic and stainless steel (316) fixings, making it impervious not just to water but to chemicals too. The framework comprises Universal GRP Structural Profiles with the stairs and landing platform made using QuartzGrip 38mm Open Mesh Grating which has a tough anti-slip finish. The staircase itself is configured to suit the location of each Mecana unit, working around any obstacles and within the available space. Each step has high contrast anti-slip nosing to help avoid slips, trips and falls in poor lighting. The GRP Cat Ladder that allows engineers to climb into the tank to replace filters is caged with GRP ScreenGuard Mesh.
Supplied in sections, it usually takes less than a day to install a platform and can be done without heavy lifting equipment if necessary.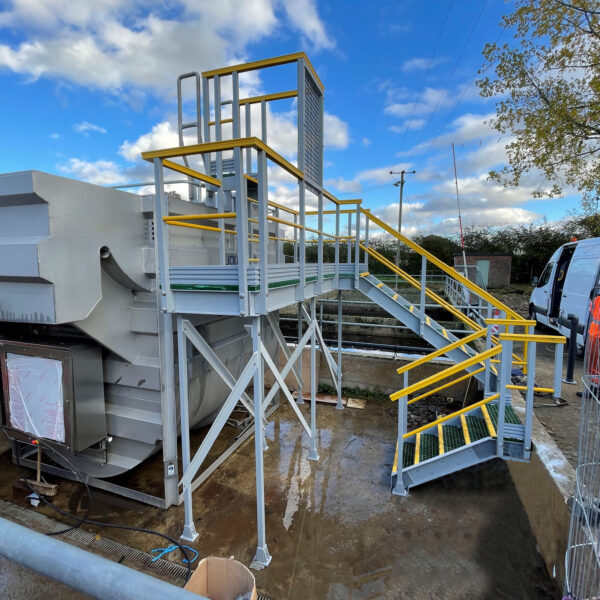 Safe Access Standards
Every platform is made to meet WIMES 9.02 (Permanent Access Fabrications) standards and conforms to Approved Documents M and K regarding access and protection from falls. They also meet CED 4024 Regulations (Secondary steel work) NB: there is currently no safety standard for GRP structures. Every Step on Safety structure is built to a minimum Safe Working Load (SWL) of 5kN/m2.
As standard, each platform has:
Continuous GRP handrail with kick plate
Non slip stair treads with contrasting stair nosing
Minimum SWL 5kN/m2
Optional extras include:
Lockable safety gates
Built in lighting
Powder-coated fixings
Handrail infill panels
Double height handrails
To find out more you can read our datasheet or get in touch with Dave Bridges to discuss your requirements.