TrackSafe GRP Track Walkways provide a non-slip surface for engineers to move around on while highlighting the potential pedestrian hazard to drivers.
Non-sparking and non-corrosive GRP profiles and waffle board
A long-lasting, low-maintenance alternative to timber, concrete, gravel and steel
Anti-slip even in wet, icy or oily conditions
Quick and easy to install without the need for heavy lifting equipment
Can be cut to size and made bespoke for our clients' needs
Provides a safe walking route for NWR operatives and passengers should they need to evacuate the train before a station
Safe track crossing within depots
Can reduce labour costs on site
Available in a range of four systems to suit your requirements
Optional lighting available in the LUX systems
Four TrackSafe Walkway Systems to choose from
We've been providing GRP Track & Cess Walkways for years and, while there isn't a 'one-size-fits-all' solution, we have now developed a range of four standard options that will meet everyone's needs. Each one is supplied in modular form with clear, concise diagrams to enable rail engineers to assemble it on site.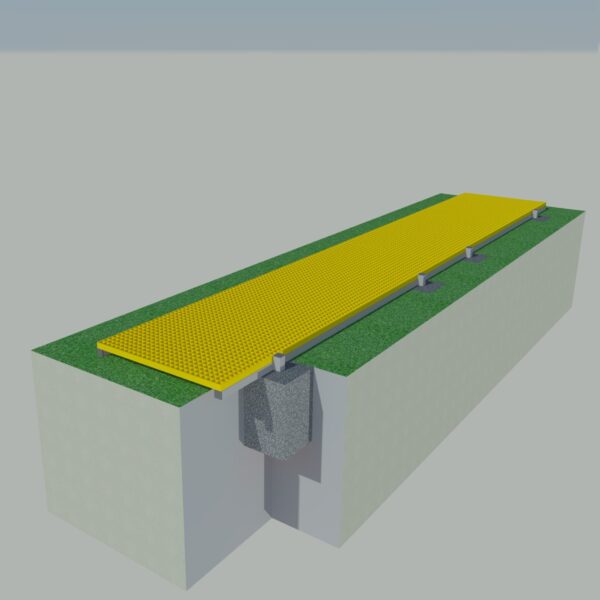 TS-150
A raised track walkway system comprising 150 or 200mm GRP Channel Profiles and yellow 38mm QuartzGrip Open Mesh Grating.
Suitable for uneven ground and areas prone to flooding
Includes continuous handrail
SWL 5kN/m2 – ideal for occasional use
Upgrade to TS-150LUX for integral LED lighting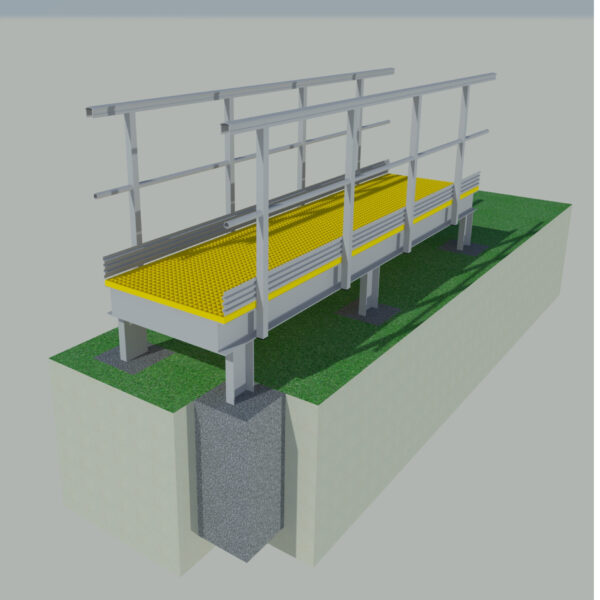 TS-HD
A heavy duty raised track walkway system using 200mm GRP I-Beams and yellow 50mm QuartzGrip Open Mesh Grating.
Includes continuous handrail
SWL 14kN/m2 – for heavy pedestrian traffic and light machinery
Upgrade to TS-HDLUX for integral LED lighting
Can be upgraded further for vehicular use by replacing the grating with SafeSlab Solid Top panels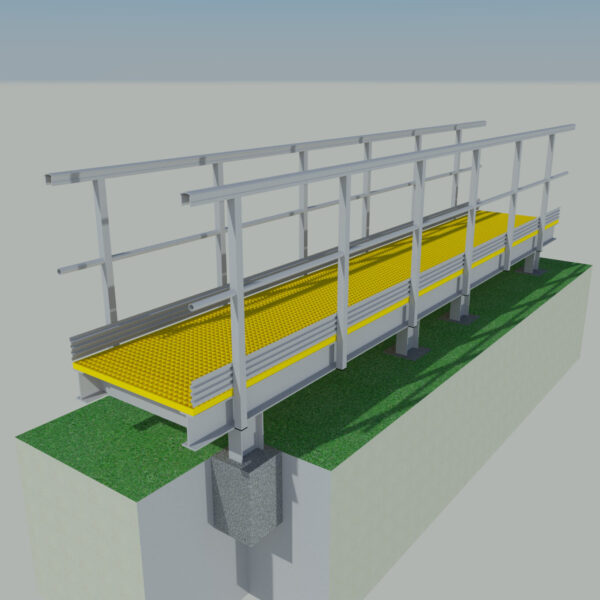 TS-X
Cross tracks safely with TS-X – a walkway system using yellow 38mm QuartzGrip Open Mesh Grating mounted on buzons to bring it level with the rail tracks.
Reduces the risk of trips and falls
SWL 5kN/m2
Can be ramped to connect with hard standing or track walkways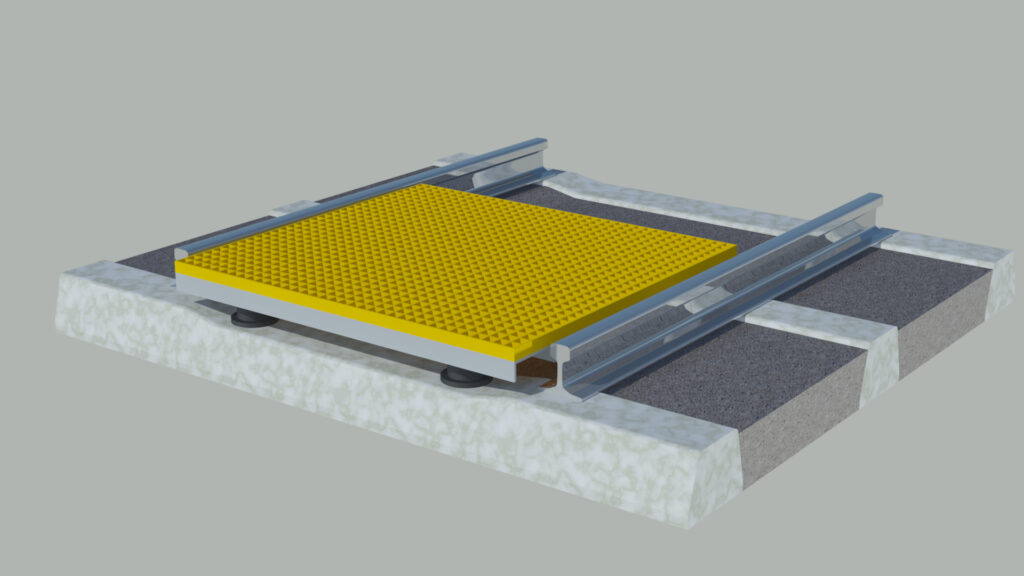 | | | | | |
| --- | --- | --- | --- | --- |
| FOUR TrackSafe SYSTEMS TO CHOOSE FROM | TS-50 | TS-150 | TS-HD | TS-X |
| Standard Installation Method | Ground | Raised | Heavy Duty Raised | Track |
| GRP Frame | 50mm Box | 150 or 200mm Channel | 200 x 100mm I-Beam | Pedestal |
| Standard Flooring | 38mm Mesh | 38mm Mesh | 50mm Mesh | 38mm Mesh |
| Safe Working Load | 5 kN/m2 | 5 kN/m2 | 14 kN/m2 | 5 kN/m2 |
| SafeRail Ergonomic Handrail Loading | – | 0.84 kN/m2 | 0.84 kN/m2 | – |
| | | | | |
| --- | --- | --- | --- | --- |
| OPTIONAL UPGRADES | TS-50 | TS-150 | TS-HD | TS-X |
| Flooring | – | Closed Mesh | Closed Mesh | Closed Mesh |
| LED Lighting (LUX) to flooring or Handrail | Yes | Yes | Yes | No |
| SafeClamp Handrail | – | Yes | Yes | – |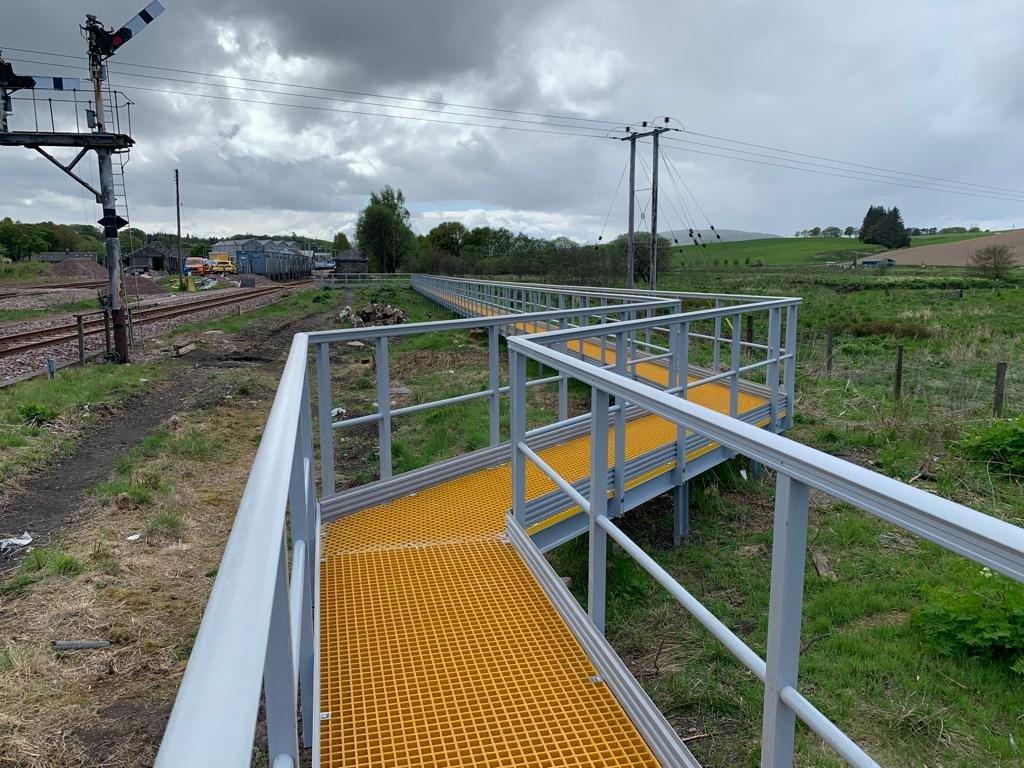 Take a look at how Scottish Woodlands used our TS-150 and TS-X Systems to provide safe access at Keith Railway Station in Moray. Get in touch today to discuss which solution will work best for you. You can download our datasheet here.
TrackSafe Walkways case studies

Rail Case Studies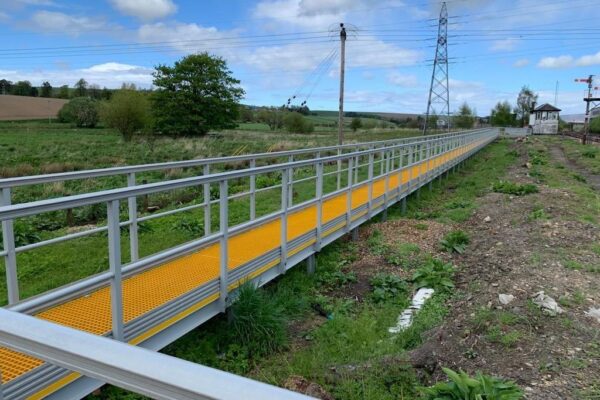 Woodlands Walkway
Woodlands Walkway
New client Scottish Woodlands has just completed the installation of a 150m raised GRP walkway using Step on Safety's new TrackSafe TS-150 System. The...
Woodlands Walkway
Find out more
Get in touch today to discuss your requirements
Mon-Fri 8:30am to 4:30pm