Fix Slippery Public Staircases
Whether passengers are rushing to catch their train, make a meeting or are simply distracted, slips and falls on slippery public staircases and steps are a big risk – especially when it's wet or icy.
We stock a range of anti-slip GRP products that can be quickly installed on any kind of public staircase – internal or external – to provide instant grip. Choose from QuartzGrip® Stair Tread Covers, Stair Nosings or Anti-Slip Grip Strips for a long-lasting, low-maintenance solution. All our GRP Anti-Slip solutions adhere to ISO 9001 standards and are made with premium-grade, slip and corrosion resistant fibreglass.
The colour options available ensure your steps are easy to spot, even for those with impaired sight. Add tactile flooring top and bottom of the staircase as an extra warning to the visually impaired.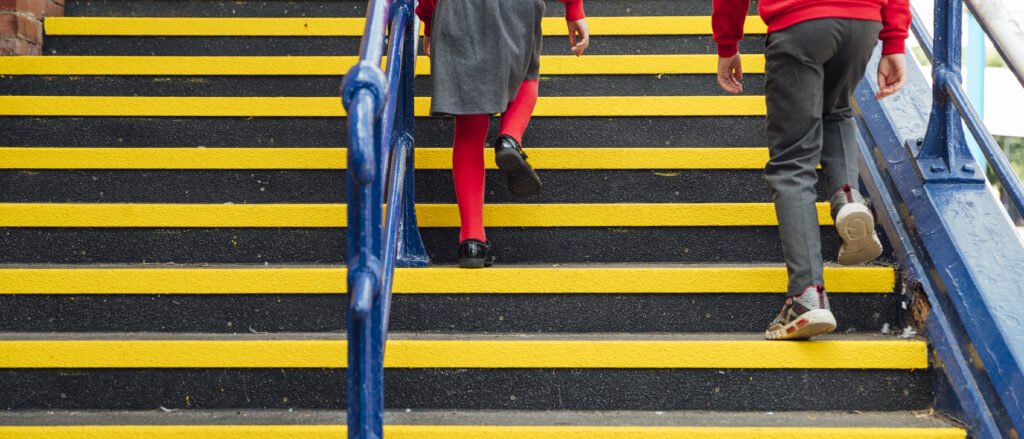 Easy to retro-fit – simply glue or screw to existing stone, concrete, brick or metal stairs
Suitable for internal and external staircases
Ideal for steps leading to platform bridges, car parks, station buildings
Ensure compliance with Document M & K and the Equalities Act Guidelines
If there are slippery public staircases at your station, we can supply the materials you need – pre-cut and pre-drilled if you want – or we can install them for you. If you'd like to know more get in touch today.
Find out more
Keep passengers and staff safe on steps and staircases
Mon-Fri 8:30am to 4:30pm