Mobile GRP Work Platforms for the Utility Industry
Typically seen at household waste & recycling centres, Mobile Work Platforms allow people to safely throw their refuse into containers while allowing operatives to move the steps easily from one container to another as they fill up.
It's not just recycling centres that can benefit from a Mobile Access Platform. They can be built to any size so are ideal for providing occasional and flexible cleaning or maintenance access to machinery, lighting, ventilation systems or windows. Wheels are braked so while they're in use they won't move around.
GRP is much lighter than the steel equivalents, making the MAPs easier to manoeuvre while maintaining strength. It's also anti-slip – even when wet, impact-resistant and won't rust so will last longer with little to no maintenance. All the materials used are self-coloured and UV-stable so won't chip or fade. It's much quieter to walk on too, helping to reduce noise on site.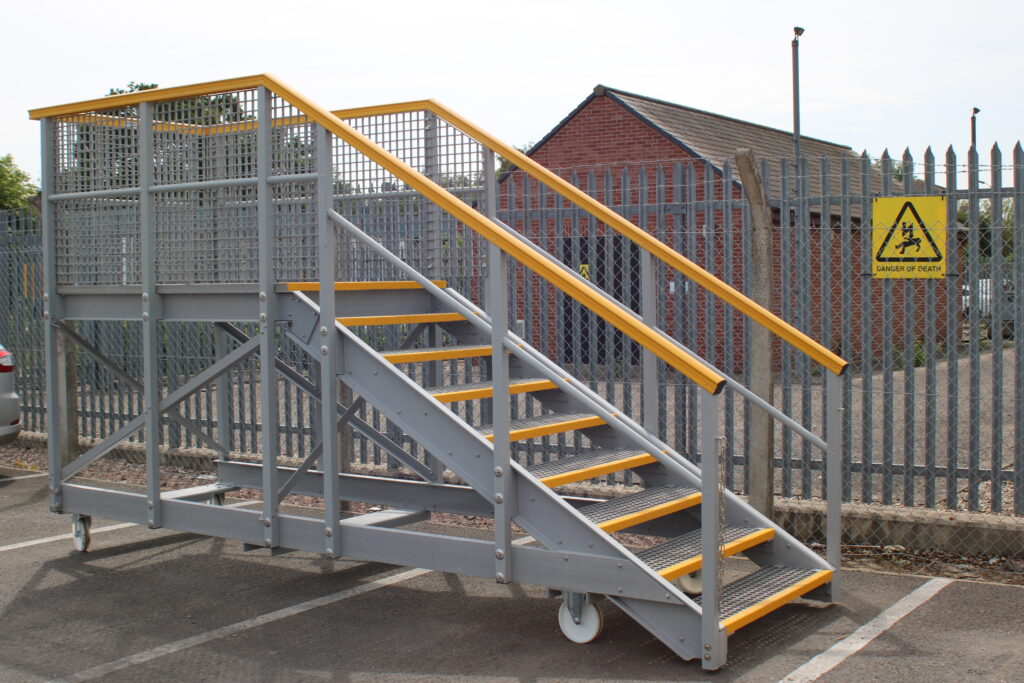 Step on Safety's Mobile Work Platforms are:
Designed to BS standards with 5kn/m2 loading
Braked wheels hold them in position while in use
GRP Grating and Stair nosing remains anti-slip even when wet or oily
Non-corrosive, non-conductive and long-lasting
Lightweight, making them easy to manoeuvre into position
Allows safe access for cleaners, engineers and pedestrians
Easy to install and modular in design – can be supplied as full fabrication or in modules
Bespoke designs can include anti-climb Mesh, Safety Gates
Quick and easy to repair if damaged
For permanent access solutions take a look at our Working Platforms page.
Find out more
To discuss your mobile access requirements get in touch today
Mon-Fri 8:30am to 4:30pm