Kiosk Access Ramps
Step on Safety can help you provide wheeled traffic with safe, non-slip access to your site by constructing bespoke GRP Ramps. Whether it's enabling wheelchair users to enter site offices and showrooms or helping operatives to move wheeled tool boxes, trollies or even vehicles into position, choosing GRP is the economical, long-lasting and low-maintenance option.
Whether it's building one from scratch or improving an existing one with Anti-Slip Flooring or Handrail, Access Ramps are ideal to improve staff and maintenance equipment access into and around factories, processing plants, kiosks, treatment works and power stations. GRP is non-conductive, chemical-resistant and non-corrosive, which means it can withstand the harshest of weather conditions.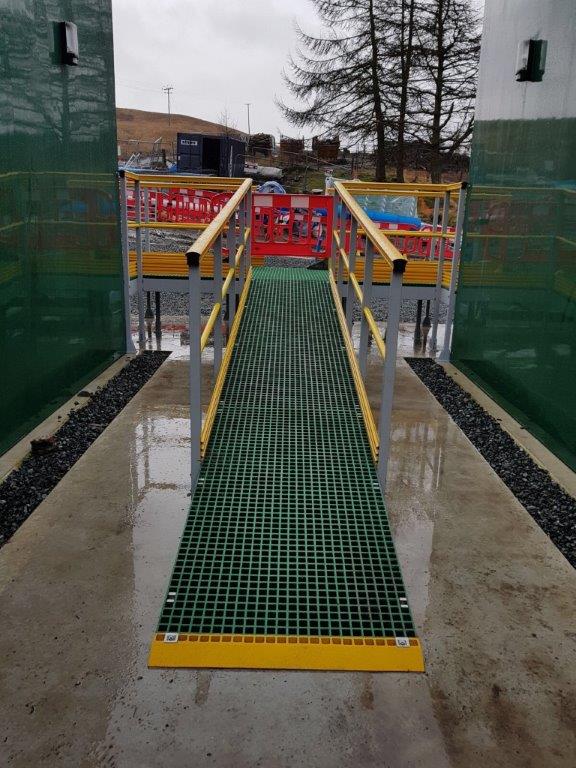 What gradient should a ramp be?
If you are installing a ramp to meet the Equalities Act 2010 and improve accessibility for wheelchair or pushchair users you need a gradual incline. Document M recommends a slope of between 1:12 and 1:20 depending on the length of the ramp. If the ramp is intended for wheeled equipment that would be too heavy to lift up stairs, but will be used by an able-bodied engineer, it could be a little steeper. As a general rule though, ramps should be as shallow as the space allows.
There are other considerations when planning a ramp:
Wheelchair users need adequate space to stop on landings, to open and pass through doors with having to reverse or risk rolling down the slope
Some people have a weakness on one side – there should be handrail on both sides
The ramp surface should be non-slip, whatever the conditions. QuartzGrip Mesh, Solid-Top and Flat Plate all meet this requirement
There should be contrasting edging at the top, bottom and sides of the access ramp
You should provide stairs as well; many ambulatory disabled people find two or three steps easier than a long ramp
Sources:
Approved Document M: Vol 2
Call today
Find out how to improve your site access
Mon-Fri 8:30am to 4:30pm