GRP Roof-Top Access Solutions
From building a staircase to reach the roof, to adding Gantries and Walkways that allow maintenance teams to navigate safely, GRP roof-top access solutions can be as simple as adding a Hop Over or Step Over or as extensive as a network of platforms to cover the whole area. The Step on Safety team can help you assess how much or how little is required to assure maintenance engineers safe and easy access to the control units, ducting and vents on your building.
Step Overs and Ladder Platforms provide a safe, non-slip way of traversing non-loadbearing roof elements while Maintenance Platforms cover the myriad pipes and cables found in front of control units.
All our GRP Roof-Top Access Solutions are constructed using QuartzGrip® anti-slip GRP grating with edges highlighted with hi-vis yellow nosing to reduce trips and falls. Platforms and steps more than 40cm high are fitted with handrailing, and self-closing gates can be installed where necessary. If there isn't space for a staircase, GRP Cat Ladders and Ships Ladders make excellent alternatives.
GRP Grating and Structural GRP Profiles are long-lasting and require zero maintenance. They are UV stable and non-corrosive so won't fade or rust. Weighing a fraction of the steel equivalents they are ideal for roof-top access solutions, placing much less strain on the roof structure.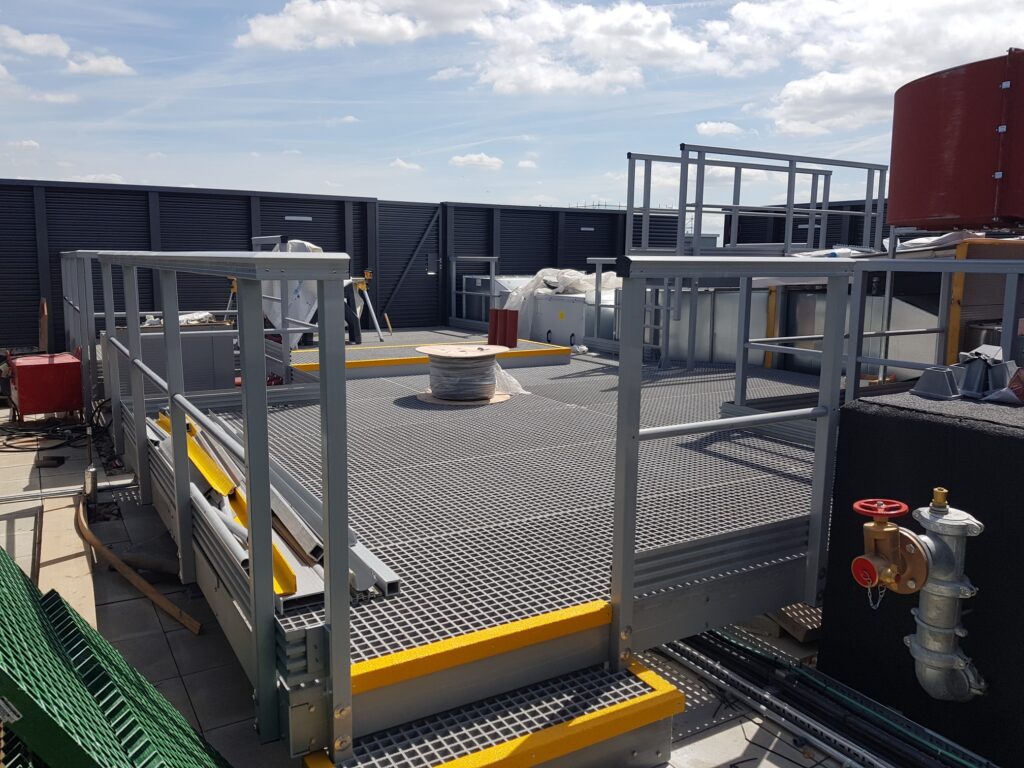 We generally fabricate everything in our Suffolk workshop before breaking it back down into sections that can be easily lifted or carried to where they need to go. (We'll visit your site beforehand to see exactly what access there might be – especially for roof-top installs.) Older buildings can be particularly challenging with sloping roofs, changes of level and a mixture of old and new construction methods but we always find a way.
If you'd like to improve safety on your roof, or simply need help getting up there, get in touch today.
Call today
Let us help you create a safer working environment.
Mon-Fri 8:30am to 4:30pm