GRP Pedestrian Ramps
Well-placed GRP Pedestrian Ramps will make life a whole lot easier for anyone using wheels – from pushchairs, wheelchairs and mobility scooters to wheeled luggage, tool boxes, trollies or even vehicles.
Adding a ramp to improve pedestrian or even vehicular access into and around buildings, display platforms or even other vehicles can be done as a temporary or a permanent solution. Whether it's constructing a ramp from scratch or improving an existing one with anti-slip flooring or handrails, Step on Safety has the solution you need.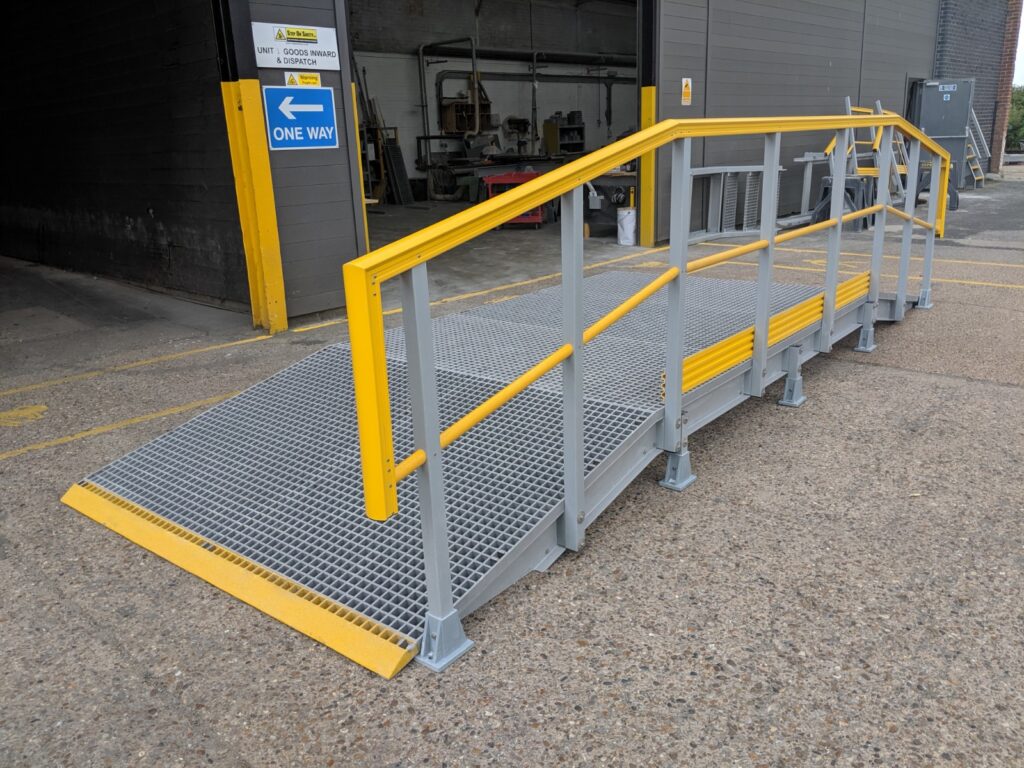 Constructed using QuartzGrip® anti-slip GRP open mesh grating, solid top panels or flat plate floor sheets and finished with ramp edging, a GRP Pedestrian Ramp provides smooth, safe access.
GRP is:
Anti-slip
Non-corrosive
Non-conductive
Long-lasting
Low maintenance
Permanent Ramps
Most of the GRP Pedestrian Ramps we build are designed for permanent access to a building or plant room. They can be designed using solid-top open mesh grating which is smoother for wheeled traffic or using one of our open mesh gratings to prevent water from pooling on the surface. The structure is built using GRP Profiles while GRP handrail with kickplate prevents items (or people) from falling over the side.
Temporary Access Ramps
It's not unusual for building sites to require temporary access ramps to navigate curbs, pipework and slopes that will ultimately be resolved using a traditional paved option. GRP is far lighter than steel equivalents so can be moved to where it's needed. All our fabrications are constructed to provide a Safe Working Load of 5 kN/m2 but we can increase that for vehicular access.
Mobile Pedestrian Ramps
If you need to be able to place a ramp quickly to facilitate access for wheelchair or pushchair users, we can design a ramp that can be carried to where it's needed and removed after use.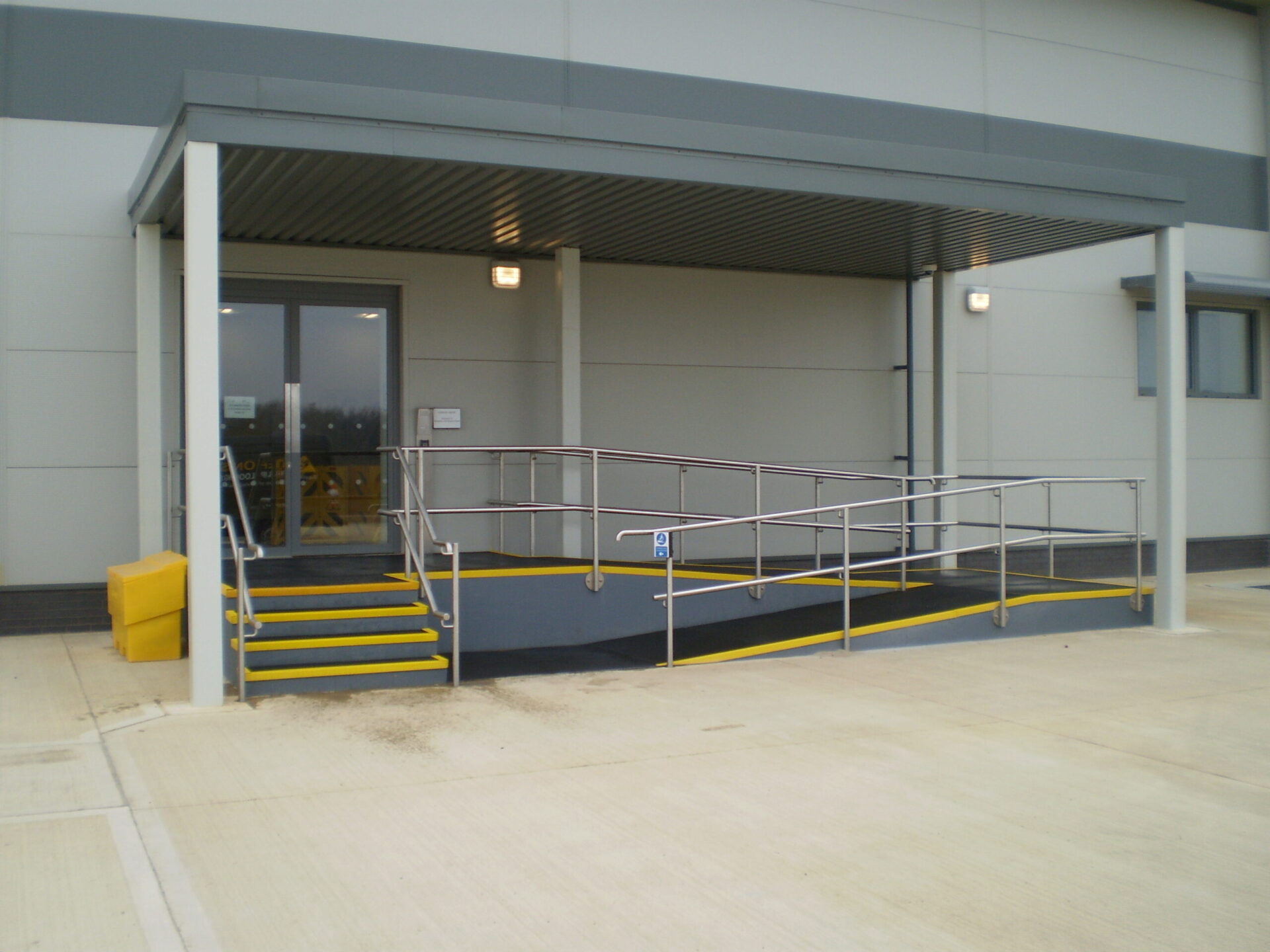 Get in touch to day to discuss your access requirements.
Pedestrian Ramps case studies

Construction Case Studies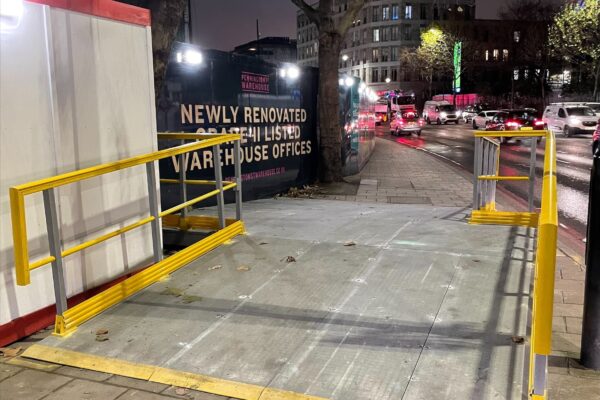 Access Ramp at Mulberry Academy
Access Ramp at Mulberry Academy
What should have been a quick one day project proved quite the challenge last week. Our client, Keir needed a temporary ramp outside their...
Access Ramp at Mulberry Academy
Top Quality as Standard
When you're choosing a GRP supplier, make sure you compare like-for-like. We list the standards we promise to meet.
Top Quality as Standard

Construction Case Studies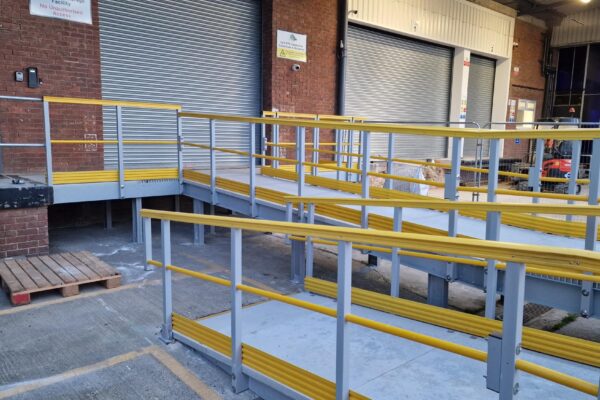 Heathrow Animal Access Ramp
Heathrow Animal Access Ramp
We are regularly asked to supply access ramps to make life easier for individuals using wheelchairs, pushchairs, buggies, wheeled luggage, sack barrows and trollies....
Heathrow Animal Access Ramp
Call today
Find out how we can improve access to your premises
Mon-Fri 8:30am to 4:30pm