GRP Mezzanine Floors
If space is becoming an issue, adding a GRP mezzanine floor to your warehouse or plant room is an instant solution. A GRP Mezzanine Deck can be built to any size, shape or loading requirement and includes anti-slip stairs. Flooring can be fabricated from open mesh grating or solid top grating and handrailing and safety gates keep staff safe. Unlike metal equivalents, a GRP structure is quiet to walk on and warmer to the touch making a more comfortable working environment. Also, whether inside or outside, the platform will not rust or rot, so requires minimal upkeep.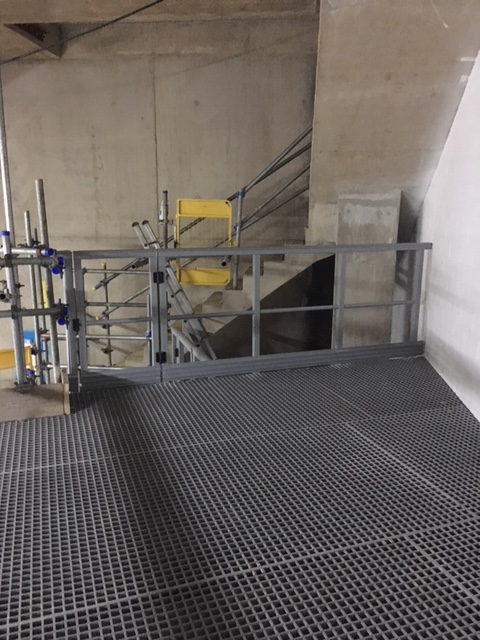 What is a Mezzanine Floor?
A mezzanine deck is an intermediate floor (or floors) in a building which is open to the floor below. It is placed halfway (mezzo means 'half' in Italian) up the wall on a floor which has a ceiling at least twice as high as a floor with minimum height. A mezzanine does not count as one of the floors in a building, and generally does not count in determining maximum floorspace.
Mezzanines help to make a high-ceilinged space feel more personal and less vast, and can create additional floor space. Mezzanines, however, may have lower-than-normal ceilings due to their location. The term "mezzanine" does not imply any particular function; mezzanines can be used for a wide array of purposes.
In industrial settings, mezzanines may be installed (rather than built as part of the structure) in high-ceilinged spaces such as warehouses. These semi-permanent structures are usually free-standing, so can be dismantled and relocated if necessary. Industrial mezzanine structures can be supported by structural steel columns but GRP profiles are much easier to install (and move if you need to relocate). Some industrial mezzanines may also include enclosed, paneled office space on their upper levels. There are three basic types of industrial mezzanines: custom, standard or modular.
The GRP mezzanine floors that we supply are always designed to meet your requirements and will be built in our own workshop before being taken apart and supplied in sections. All we need to to do is put it back together at your site.
Find out more
Get in touch to discuss your space requirements
Mon-Fri 8:30am to 4:30pm