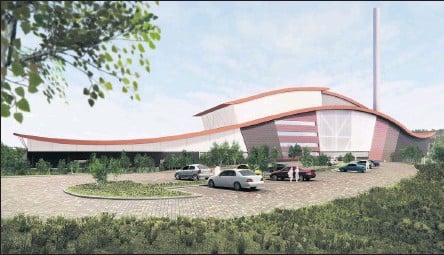 Utility Case Studies
Newhurst Energy from Waste Plant
Docked like a ship against the M1 motorway, the Newhurst energy from waste plant near Shepshed in Leicestershire is ideally located from a logistical point of view. Despite being relatively large, its design exudes a simple elegance.
The Energy from Waste (EfW) plant will be operational from 2023 onwards, processing some 350,000 tonnes of non-recyclable waste every year to produce more than 43 MW of electrical energy. Its net electrical efficiency of 31.3% will be among the very best in the world, and it will be able to supply around 80,000 households with electricity. Hitachi Zosen Inova (HZI) is acting as general contractor for the Newhurst project, supplying the technology and overseeing the construction of the turnkey plant. After the plant is commissioned, Covanta will take over its operation and maintenance.
Actively Contributing to Sustainable Waste Management
The Newhurst EfW plant will make a substantial contribution to the UK's waste management infrastructure. It will support both the government's efforts to reduce dependency on landfill and the UK's ability to process non-recyclable waste sustainably without having to export it to other European countries.
EfW plants are a safe and advanced waste management solution with a key role to play in the economy. They cut CO₂ emissions by reducing the proportion of fossil fuels used in power generation. Incineration also prevents the methane emissions that arise from biogenic waste placed in landfill and are harmful to the environment. Any metals found in the waste will be recycled and refined while the mineral component of the bottom ash can be processed and reused, for example in roadbuilding.
GRP as a Sustainable Option
Step on Safety has been onsite at Newhurst many times over the last eight months, providing a range of access solutions throughout. In a development that has sustainability at its heart, GRP has been utilised where ever possible;
Glass fibre production requires 75% less energy than steel production
Glass fibre structures are 75% lighter than steel which means 50% less energy is required for transport and assembly
GRP's CO2 equivalent is less than half that of concrete equivalents and approximately a third of the equivalent for steel which give it amore favourable carbon footprint
Very few harmful by-products are created during production
The resin used to make GRP is derived from a by-product of refined crude oil
Due in part to the high quality resins that are used, many GRP products have a service life of more than 50 years and even more than 100 years in some cases
GRP doesn't require environmentally harmful finishing operations, such as hot-dip galvanising or painting (steel) or other preservation methods (such as those used for wood), in order to guarantee its service life
The long-lasting, non-conductive fibreglass solutions SoS has provided include:
SafeScreen infil panels to handrails
Non-conductive fence panels
Solid Top grating settlement tank cover with hinged access hatches and ladders
Trench covers
Working platform in front of a substation transformer