Sump Covers
GRP Mesh – open or solid top – is an ideal material for covering sumps, tanks, drains, manholes, trenches and pits. It's corrosion-free, chemical and impact resistant and remains anti-slip even in wet or oily conditions. What's more, it's less than half the weight of metal or concrete covers, making its removal for maintenance access much easier.
Covers can be cut to any shape or size and can be fitted with access hatches or hinged so they can be folded back. Choose standard or mini mesh versions to allow water to seep through whilst filtering debris or solid top versions that will keep all dirt and debris out which can also be made water-tight. Our QuartzGrip® GRP Grating is stocked in green, yellow or grey but can be produced in any RAL colour if required.
We can produce covers to your own specification for you to install, or we can install them for you.
Sump Covers case studies
Pumping Station Chamber Renovation
A challenging install in a challenging environment; replacing the steel platforms inside four foul chambers.
Pumping Station Chamber Renovation

Utility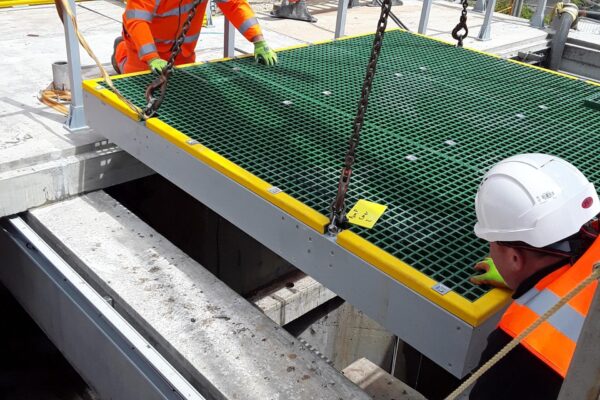 Portobello Pumping Station
Portobello Pumping Station
We were part of the huge Portobello Pumping Station renovation in the summer of 2020 installing GRP Chamber Covers, Walkways and Access Stairs
Portobello Pumping Station
Find out more
Call today to discuss your GRP requirements
Mon-Fri 8:30am to 4:30pm