Bund Floors
While bunded floors are essential to contain spills or leaks from containment tanks, they can pose an access challenge for maintenance engineers and will collect debris – especially if outside. Adding a GRP Bund Floor that is level with the surrounding walls creates a trip and slip-free working platform; Access Stairs and Handrails makes it even safer.
Step on Safety's Bund Floors are fabricated using QuartzGrip® anti-slip mesh grating, that sit on a 'free-standing' framework made using Universal GRP Structural Profiles, so nothing is drilled into the bund walls potentially compromising their integrity. As GRP is waterproof and chemical-resistant, it won't be damaged in the event of a spill. Each bespoke floor is made to the exact shape and size of your bund and our expert installation teams will ensure a seamless finish.
Bund Floors case studies

Utility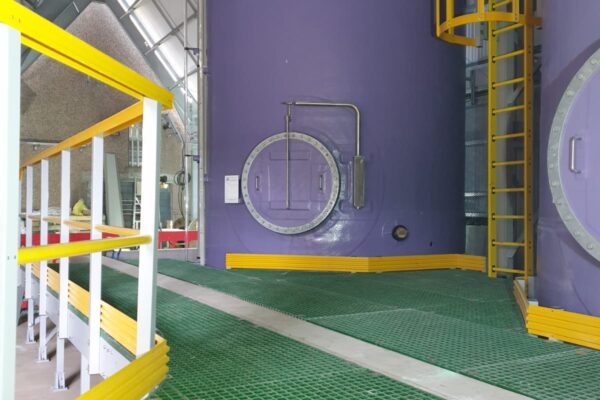 Scottish Water, Whitehillocks
Scottish Water, Whitehillocks
We were asked by Scottish Water to provide safe access to a large chemical bund for operational and maintenance activities.
Scottish Water, Whitehillocks
Call today
To discuss your GRP requirements get in touch
Mon-Fri 8:30am to 4:30pm