GRP Ramp Access for Marine Installation
A well-placed ramp will make life a whole lot easier for anyone using wheels – from child buggies, wheelchairs and mobility scooters to wheeled luggage, tool boxes, trollies or even road vehicles.
Adding a disabled ramp to improve staff and visitor access into and around ports, marinas and waterside exhibits can be done using a mobile or a permanent solution. Whether it's creating ramp access from scratch or improving an existing one with anti-slip flooring or handrail, Step on Safety has the solution you need. And whichever solution suits your situation the best, you can be sure that the GRP element will be long-lasting and low-maintenance.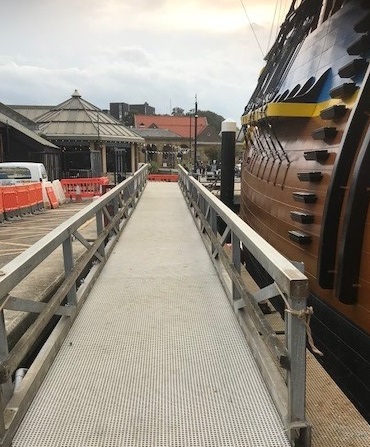 Disabled Access Ramps
Ramps installed to improve accessibility for wheelchair or pushchair users need a gradual incline. Approved Document M recommends a slope of between 1:12 and 1:20 depending on the length of the ramp. As a general rule though, ramps should be as shallow as the space allows.
There are other considerations when planning a ramp:
Wheelchair users need adequate space to stop on landings, to open and pass through doors with having to reverse or risk rolling down the slope
Some people have a weakness on one side – there should be handrail on both sides
The ramp surface should be non-slip, whatever the conditions. QuartzGrip Mesh, Solid-Top and Flat Plate all meet this requirement
There must be contrasting edging at the top, bottom and sides of the access ramp
There should be stairs as well; many ambulatory disabled people find two or three steps easier than a long ramp
Find out more
Call today to discuss your access requirements
Mon-Fri 8:30am to 4:30pm